Overview

Preparations for relicensing
Essex Company, LLC (Essex) a subsidiary of Patriot Hydro, LLC owns and operates the Lawrence Hydroelectric project (No. P-2800) (the Project), which is licensed by the Federal Energy Regulatory Commission (FERC). The current operating license for the Lawrence Project was issued on December 4, 1978 and expires on November 30, 2028. Essex will file its application with FERC for a new license for continued project operation no later than November 30, 2026. As part of the relicensing process, Essex will be conducting a series of resource studies to assist FERC with the preparation of environmental review documentation and conditions for a new operating license.
Project Location

Merrimack River
The Project is located on the Merrimack River in the City of Lawrence, Essex County, Massachusetts, with a 655-acre impoundment.
Project Components
Click or tap the cards below to learn about each of the project components.
Hydropower 101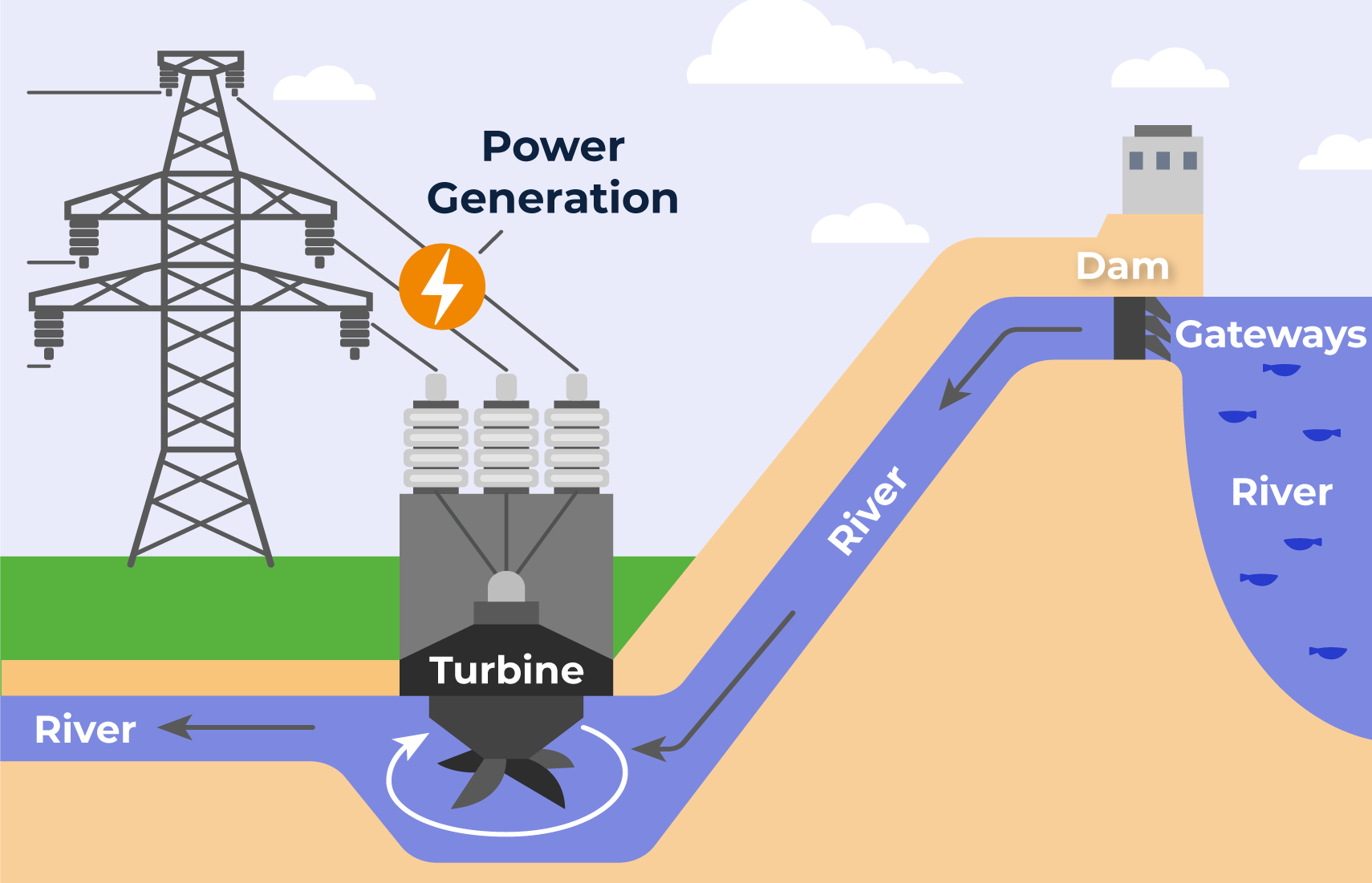 Hydropower, or waterpower, is the method of capturing dynamic energy created by running water for conversion to electricity. Hydropower was introduced by ancient Greek and Chinese civilizations through waterwheels and mills that helped power basic machinery.
Massachusetts became a world center of hydropower innovation in the 1840s following invention of the modern water turbine in Lowell on the Merrimack River. This legacy lives on today through the numerous dams, canals, and hydroelectric facilities on the Merrimack River.
Hydroelectric turbines transform the energy of flowing water into electrical energy by spinning the turbine blades, that in turn spin a generator which produces energy. The captured energy is directed through electrical transformers and into the power grid for human use.
Water turbines are a clean, renewable source of power production since they only require flowing water. Modern turbine operations are highly efficient (+/-95%) and can serve for decades after construction.
Process

FERC Relicensing Process
Hydropower in America is overseen by the Federal Energy Regulatory Commission (FERC), an independent federal agency that authorizes the construction and operation of the nation's hydroelectric projects. FERC enforces the conditions of hydropower licenses while conducting ongoing project safety and environmental inspections.
A hydropower license authorizes the construction, operation and maintenance of a hydropower project for a term of 30 to 50 years. At least 5 years before an existing license expires, the project licensee must initiate FERC's relicensing process.
All license and relicense applications must contain information FERC needs to evaluate project effects and prepare environmental documents required by the National Environmental Policy Act (NEPA) and its regulations. All applications include detailed descriptions of the project facilities, operation, proposed changes, description of existing environmental, cultural, and historic resources, effects of the proposed project on these resources and the community(ies) in which the project is located, and proposed mitigation measures.
The Commission's Licensing Process
One- to Two-Year Pre-Filing Phase
Identifies and obtains necessary information from an applicant's initial proposal, including feedback from public stakeholders
Develops a scientifically supported study plan that characterizes the project's potential effects on resources such as recreation and water quality, with results used to develop the license application
Engages the public by way of scoping meetings and a project site visit
FERC Review Period
Reviews project benefits and effects
Seeks public input, including feedback from the community, nongovernmental organizations (NGO), Indian tribes, and local, state, and federal resource agencies
Further identifies environmental issues and determines what/if additional studies are needed to better understand key issues
FERC Post-Filing Environmental Analysis
Performed after all necessary information gathering is completed
Additional Public Engagement
Performed after the license application is accepted as complete, including new additional input from members of the public, NGOs, tribes, and government agencies
In advance of preparing environmental documents required by NEPA, FERC uses comments and environmental documents to determine whether issuing a license for a project is appropriate and, if so, what environmental measures and other operating conditions to include in the license.
Projected Relicensing Schedule
Swipe or scroll for a look into the future.

2023

June - Notice of Intent and Pre-Application Document Filed with FERC
July and August - Application Scoping
August 2023 to March 2024 - Study Plan Development
October 14 - PAD Comment Deadline

2024

Spring to Fall - Study Season #1
March - Revised Study Plan Submission
April 11 - RSP Comment Deadline
April 2024 to March 2025 - Application and Environmental Studies Development
April 26 - FERC Releases Study Plan Determination
August - FERC Releases Determination on Study Plan Amendments and Disagreements

2025

April - Application/Initial Study Report Filing
April - Initial Study Report Meeting
April to June - Initial Study Report Stakeholder Comment/Requests to Amend Study Plan
June 25 - Initial Study Report Comment Deadline

2026

July - Draft License Application is filed
November 28 - Final License Application is filed
Post to November - FERC Processing of Application

2028

November (or thereafter if delayed) - New License Issued
View Key Dates
Documents and Resources
Visit our Resources page for Frequently Asked Questions & Project Documents and Resources.
View Resources